What Damage Can Result from a Broken Sink Fixture in Your Los Angeles Cafe?
7/31/2020 (Permalink)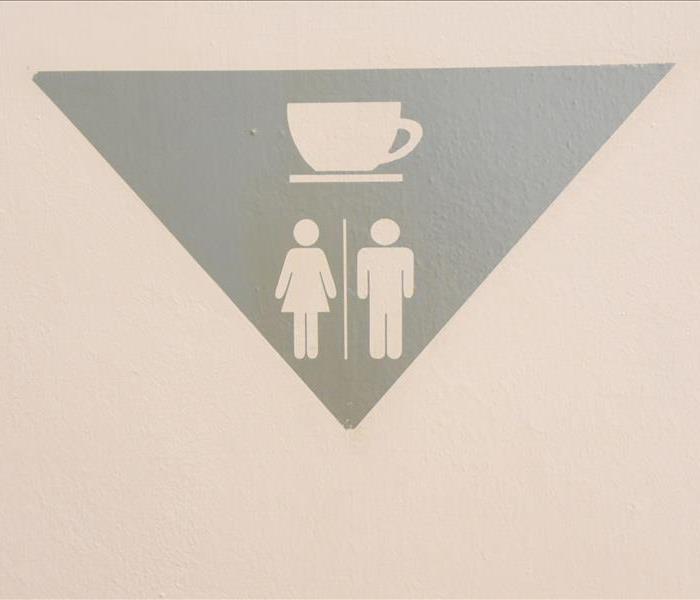 SERVPRO knows how serious a bathroom leak can take over your Los Angeles Cafe. Call us today, we can have you back up and running in no time.
Our SERVPRO team can respond quickly to water losses, helping to begin repairs, restoration, and recovery efforts as soon as possible.
With a steady flow of patrons coming into your Los Angeles cafe every day, unexpected loss incidents like a broken fixture in one bathroom can be destructive. Not only can shutting your doors harm your reputation, but it can also make it more challenging to open them again after restoration and recovery. Choosing a team like SERVPRO is choosing a fast and reliable response to these water emergencies to ensure that the appropriate steps get taken immediately to recover the damage.
Because the bathrooms are directly connected to your building's main floor where customers gather and enjoy their coffee, water restoration in your Los Angeles cafe must begin immediately. You cannot stall the progress of migrating water without the appropriate equipment and expertise, and that is why securing our professionals right away can help. In many situations, we can offer thorough drying and recovery solutions in contained areas to allow you to continue operating at a limited capacity while restoration continues.
Should Repairs Happen Right Away?
There is no mistaking the damage that migrating water can do, especially to the structural elements immediately surrounding a water loss' origin point. Fortunately, with a team of in-house contractors at our command, we can offer restoration and repair solutions for properties. The assessment of your property can happen alongside mitigation and the installation of containment barriers, allowing you to continue serving your customers throughout even the earliest stages of restoration. Our contractors can help in several ways after a water loss beginning in the bathroom, including:
Replace broken plumbing
Repair damaged fixtures
Begin controlled demolition
What Is Troublesome About Standing Water?
Substantial water loss incidents can be made even worse by the presence of standing water. This pooling on the surface can spread quickly into neighboring spaces like the main floor of your cafe. Migrating loss effects can be threatening to your customers, making it vital to address these situations before they infiltrate communal areas where your patrons gather. There are multiple concerns with standing water and its effect on the exposed materials around it. Some of these include:
Saturation – The absorption of water into specific sensitive materials such as carpeted floors, wood plank flooring, or furniture and cabinetry around preparation areas in your cafe can have permanently damaging effects.
Migration – The spread and severity of water loss effects vary from one location to the next, but failure to address standing water from the bathroom can lead to these same issues and more heavily trafficked areas of your business.
Structural Deterioration – The presence of water trapped in specific materials like drywall and wood flooring can lead to deterioration and degradation. There is a finite timeline to address these concerns with the appropriate drying tools.
Can Water Move to Inaccessible Areas?
Knowing where water migration has occurred, and the path that it continues to take throughout the property can allow our technicians to get ahead of this evolving threat. When the water reaches inaccessible areas, we must utilize specialty drying tools to promote evaporation once extraction efforts become more challenging. Water trapped within flooring systems can often get overlooked without the appropriate technologies to determine where migration has happened. We can breakdown the recovery of engineered wood flooring and hardwoods into three phases:
Surface Moisture Meter - We utilize moisture meters to identify moisture pockets and dampness within structural elements like flooring and subflooring materials.
Floor Mat Drying Systems - When water gets located within these materials, it is possible to remove this moisture with our floor drying mats positioned appropriately throughout the structure.
Controlled Demolition - When physical damage exists in the flooring after prolonged exposure to moisture, the only solution is controlled demolition. We can perform this within our containment area to reduce cross-contamination and any other detrimental effect on your customers.
What Materials and Fixtures Require Replacement?
Many structural elements and fixtures exist within the bathrooms of your cafe. As you look to upkeep the appearance and aesthetic qualities of these necessary facilities, you can recognize how quickly elements like vanities and flooring might become too compromised to preserve. Many of the vanities used in even commercial applications are a particleboard construct, which can be overly sensitive to water absorption. In many situations, it is more cost-effective to remove it and replace this structural fixture rather than to attempt to dry it.
Water loss incidents can happen without notice and spread rapidly through your business. Our SERVPRO of Silver Lake / Echo Park team can help with the fast response featuring experienced professionals and efficient recovery tools. Give us a call today at (213) 628-2000.