Keeping Your Los Angeles Building Secure During Commercial Wildfire Damage Cleanup
10/15/2021 (Permalink)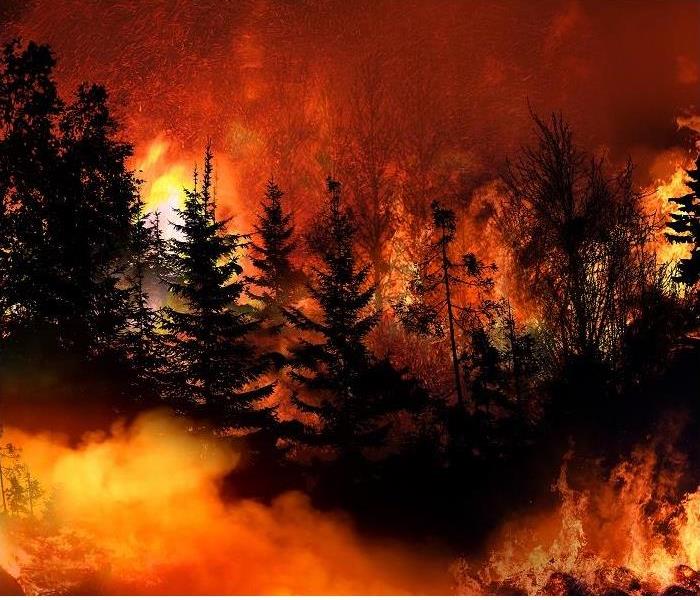 Commercial wildfire damage can shut your business down. SERVPRO stands ready to handle your fire damage restoration needs.
Let us Help you Get Your Los Angeles Building Secure After a Fire

Wildfires are an unfortunate event that happens across California, causing property owners billions in claimed damages. It is tough to turn around the damage, but with professional help, you can get the best possible outcome in this type of adverse situation.
In Los Angeles, commercial wildfire damage requires fast action. With the recent El Sereno fires, residents got a slight reprieve in that the winds did not pick up, and the fire did not spread as fast as many wildfires have in the past. However, evacuations happened, and that leaves properties unattended.
Security Fences

As soon as it is safe to do so, SERVPRO technicians put up protective barriers around the property to halt unauthorized persons from entering the premises. It is a sad fact that there are individuals who risk their safety to take advantage of unoccupied structures during fire evacuations, and a secured perimeter is an excellent first line of defense.
Cleanup is the First Step

Wildfire is a high heat blaze and moves slowly, leaving destruction in its wake. SERVPRO technicians carefully inspect both the structure and contents to determine if their equipment and cleaning methods can return the fire damaged items to their pre-damage condition. Technicians utilize containment on-site to limit cross-contamination and remove valuable and restorable items to a secure location for storage and cleaning in some cases.
Odor Control Applications

Before any reconstruction occurs, the property must be odor-free. This may involve actions such as using sealants on salvageable walls to stop pungent odors from embedded soot or the use of equipment such as air scrubbers or hydroxyl generators to capture and neutralize airborne particulates. If the ductwork remains intact, it may require cleaning before reuse.
Quick Rebuilding is Crucial

The building must be safe to reopen for business. Repairs and reconstructions are a standard part of fire damage cleanup. Charred and smoke-damaged building materials require removal. SERVPRO has a general contractor license #999460 and handles not only the cleanup and restoration but any needed rebuilding necessary for the organization to resume business as usual.
Commercial wildfire damage can shut your business down. Contact SERVPRO of Silver Lake / Echo Park at (213) 628-2000 for fire damage cleanup and restoration. The certified technicians work hard to return your property to its pre-fire condition, "Like it never even happened."