Water Damage Restoration in Los Angeles is Fast with SERVPRO
4/24/2023 (Permalink)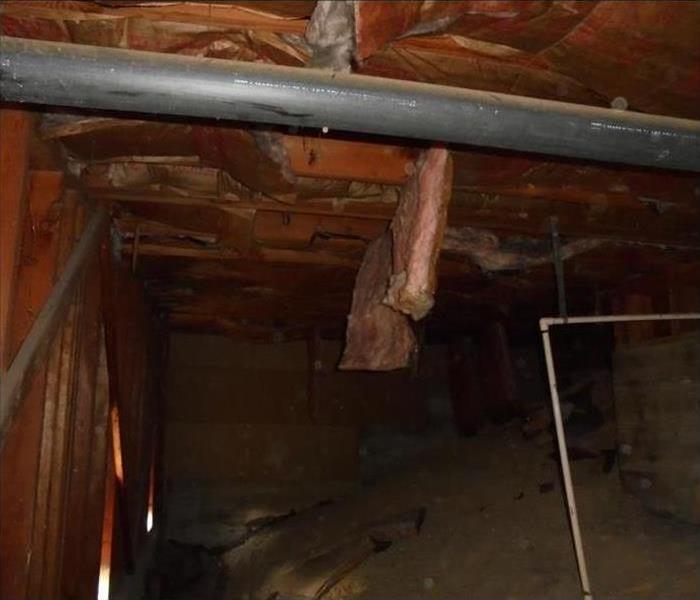 SERVPRO was called to dry out this crawlspace and remove the wet material from this Silver Lake Condo.
SERVPRO Techs Use Modern Tools During Water Damage Restoration in Los Angeles Homes
Water damage due to burst pipes, ceiling leaks, or other plumbing issues can be challenging to contain. Professionals like SERVPRO use state-of-the-art technology and equipment during water damage restoration of your Los Angeles home to ensure the situation does not become a catastrophe.
When performing water damage restoration in Los Angeles homes, SERVPRO techs focus on removing the water as soon as possible. Once the techs pump out the standing water, the next step is to remove the trapped moisture by creating drying conditions that encourage evaporation.
Dehumidification and its Role in Water Cleanup
SERVPRO techs manipulate the humidity of the drying air to encourage the hidden moisture to evaporate and speed up the drying rate. One of the best techniques to control the humidity of the drying air is through dehumidifiers.
SERVPRO restorers use three types of dehumidifiers during water damage repairs-
Refrigerant dehumidifiers extract moisture from the air by cooling it to the dew point and then reheating it. They effectively maintain optimal humidity levels in large spaces but consume much energy and may not work well in colder temperatures.
Low-grain dehumidifiers can remove moisture from the air even at low temperatures and humidity levels. SERVPRO techs commonly use them in industrial and commercial settings.
Desiccant dehumidifiers utilize a desiccant material such as silica gel or activated alumina to absorb moisture from the air. They are energy-efficient and work well in low-temperature environments, making them ideal for domestic and commercial use.
Airflow Also Plays an Important Role
Airflow is crucial in circulating the dry air from the dehumidifiers to the wet surfaces. Without proper air circulation, even the best dehumidifiers can't accelerate drying. SERVPRO techs use strategically placed air movers to improve airflow and speed up drying.
Call SERVPRO of Silver Lake / Echo Park at (213) 628-2000 for reliable service.