Skilled Mold Damage Technicians in Los Angeles
3/14/2018 (Permalink)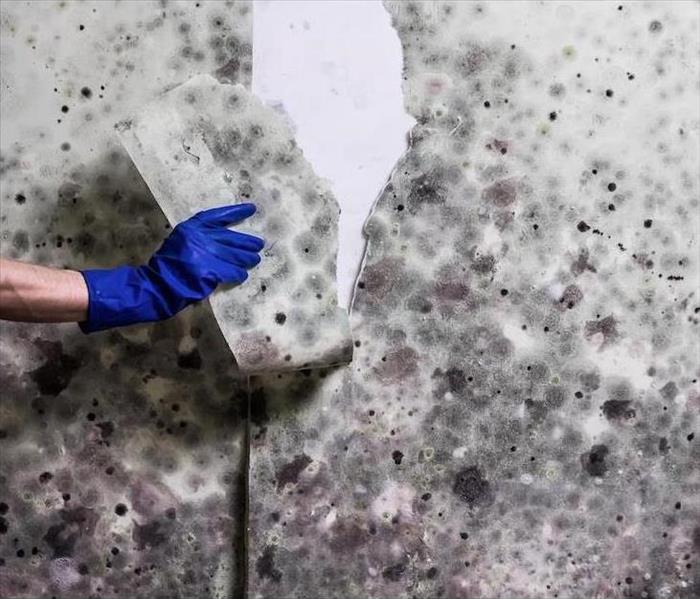 Mold can spread quickly and needs to be removed following industry standards. Contact SERVPRO for questions and remediation services.
SERVPRO Technicians Follow the Highest Standards When it Comes to Mold Remediation
Anytime water gets inside a building; mold growth becomes a possibility. If water spills into your Los Angeles home and it does not get dried out quick enough, fungi growth is inevitable. Sometimes a fungus develops due to a slow water leak that goes unnoticed for a long time.

Whenever mold is present in your dwelling, it is crucial to get the issue mitigated because it sometimes causes health effects. SERVPRO's team of mold damage experts in Los Angeles are IICRC certified and have experience in fungi remediation procedures. Our crews always follow strict industry guidelines and standards when dealing with mold inside a structure.

As soon as our technicians arrive at your house, we develop a work plan based on industry mold remediation guidelines and standards. All SERVPRO technicians use resources that come from the EPA and IICRC. The two resources put out by these organizations relating to fungi are the EPA Mold Remediation Guidelines and the IICRC S520 Mold Remediation Standard.

The Environmental Protection Agency (EPA) has guidelines set for mold remediation projects in schools and commercial buildings. The guidelines used for these properties also get followed by restoration crews working on residential buildings. The EPA's guidelines provide a flowchart with critical steps to remediating mold that our specialists follow during any project.

The EPA suggests three main steps when dealing with fungi-infected areas. First off, we clean and dry any moldy materials present. We use anti-microbial chemicals that get rid of a fungus and the spores it creates to prevent future growth. Then we discard any mold-infested items that cannot get clean. Lastly, we dry out any materials that are wet but not affected by mold within 48 hours.

The Institute of Inspection, Cleaning and Restoration Certification (IICRC) came out with the first standard for mold remediation. The IICRC published the S520 Standard and Reference Guide for Professional Mold Remediation that guides restoration professionals in both large and small projects. The IICRC standard provides detailed principles for our experts to follow when restoring mold-contaminated structures.

Anytime a fungus develops inside; it is essential that the restoration process gets completed correctly. To ensure the remediation of your mold problem is completed by the book, contact SERVPRO of Silver Lake / Echo Park at (323) 255-1000 for assistance 24 hours a day and 7 days a week.

Click here for more information about the city of Los Angeles.