Poor Installation of Equipment on the Roof can cause Mold Damage in Your Los Angeles Residence
10/2/2017 (Permalink)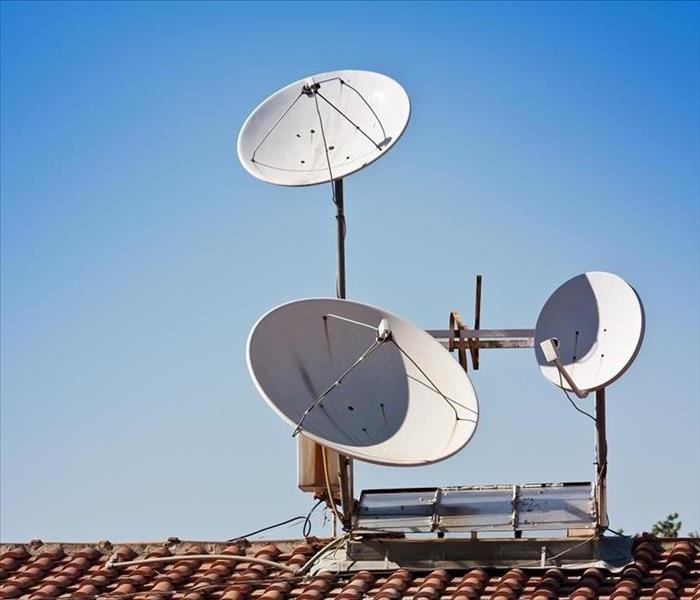 If amenities are incorrectly installed on your roof, mold damage can develop and easily spread to other parts of your home.
Mold Remediation Services for Improper Installations on Your Roof
Modern living calls for the amenities available to most of us. Television programming is available from around the world if only a satellite existed on your roof. Additional power is easily generated in sunny climates like Los Angeles when you equip your home with solar panels. Other amenities that require installation on the uppermost parts of your residence increase both the worth and the risks placed on your home.
When installing equipment on roofs in Los Angeles, mold damage can develop if the installer performed the job poorly. Rainfall does not need to occur in copious amounts to seep into openings in a roof caused by poor installation work, and mold can begin to grow when only a minuscule amount of water enters any given area.
Hiring a professional and experienced installer to perform the work you need around your home can prevent such a problem from developing in your attic, which can then spread easily to the rest of your home. However, even the best installation professionals can make mistakes when drilling holes in your roof.
SERVPRO technicians can remediate any mold damage that your home sustains. The fact that mold already exists everywhere is behind both why complete and total elimination of mold cannot occur and why mold multiplies whenever water enters an area. Understanding these two principles and many others helps our technicians perform mold damage remediation that restores your home to its previous state.
Removing damaged material happens only when necessary. It is always less expensive to restore than it is to replace those same items. SERVPRO employees understand that while each job should follow basic protocols, creativity and ingenuity can also help resolve many issues. Sealing your attic with Concrobium, an antimicrobial agent, can help keep any future growth from occurring. It can also kill any remaining mold that escaped because it remained hidden in cracks or grooves within the attic's materials.
SERVPRO of Silver Lake / Echo Park trains our employees, resulting in certificates from the IICRC. Mold damage can affect every area of your home after mold spores spread out from one focal point. Contact us today at (323) 255-1000 to help regain control of microbes in your home before they can cause more damage.
For more information about Los Angeles, click here.