What is the Best Way to Get Flood Water Out of My Los Angeles Home?
5/29/2020 (Permalink)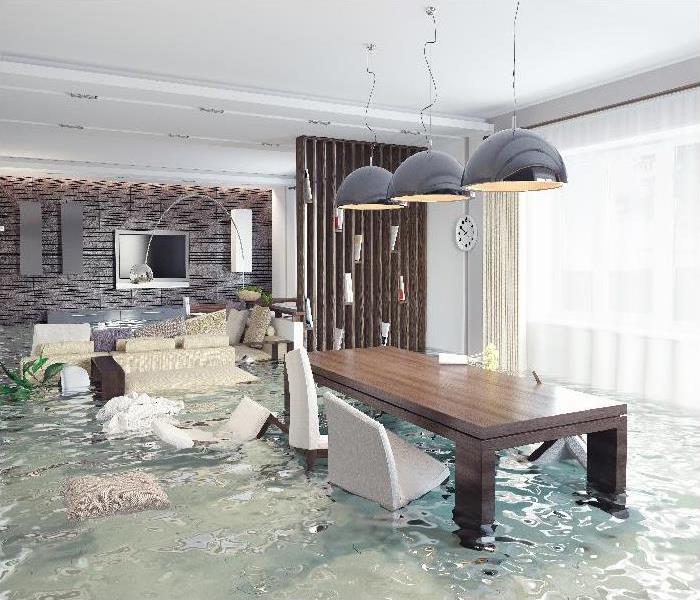 We are available 24/7 for emergency service, and we send out a team in as little as four hours when you give us a call.
SERVPRO is Available in Los Angeles for Expert Flood Damage Restoration!
Flooding is rarely a situation that you can prepare for, especially when a storm comes in quickly and leaves your Los Angeles home with a copious amount of standing water. Any water loss situation brings a good deal of stress and chaos to your home, which is why contacting water restoration technicians (WRT) is usually the best option. SERVPRO can come to your home 24/7 to help ensure that your interior gets restored quickly to preloss condition, and you can get back to life as usual.
How Long Will Water Extraction Take?
When you call us for service, our team comes out to assess your flood damage in Los Angeles so that we can formulate an efficient plan for extraction and restoration. The length of time the project takes from start to finish depends significantly on the amount of water and the level of damage. We use IICRC-certified techniques that allow us to manage flood loss events of all types. Our crew chiefs are available 24 hours a day, seven days a week. In many cases, we can have a team on-site and ready to start work in as little as four hours or less.
What Tools Do You Bring to the Job?
Our Green Fleet is loaded with advanced tools, equipment, and cleaning agents that allow us to expedite each flood loss project. Some of the tools that we use most in jobs include:

• Extraction Equipment: Submersible pumps are helpful when we need to remove water from targeted areas within your home. Truck-mounted water extraction tools are perfect when dealing with a situation that calls for hundreds of gallons of water to be removed.
• Air Moving Equipment: Air-moving technology like industrial-strength fans and air movers are critical on each water loss job. This equipment helps to ensure air flows over your furniture and flooring to speed up water evaporation. Our team repositions our air mover tools as needed throughout the project to ensure maximum efficiency.
• Dehumidification Equipment: A series of dehumidifiers of industrial-grade help to pull up excess moisture from the air in your home, which helps to lower humidity levels. The dehumidifiers work in unison with air movers and fans to keep secondary damage from happening to your floors, furniture, and walls.
What is a Controlled Demolition?
There are times with a flood damage project when controlled demolition is necessary. This process allows us to not only remove damaged building materials, but it also helps us to locate hidden pockets of pooled water or moisture. Water from a flood often becomes absorbed and encapsulated in woodwork, flooring, and walls. Instead of leaving it to chance and allowing it to dry over time, we have a range of strategies to get to the heart of the matter:

• Flood cuts can be made several inches over the waterline when you have saturated drywall
• Holes can be drilled in masonry mortar joints
• Baseboards can be removed, and holes may be drilled into the bottom of walls, which allows us to force air in for expedient drying
• Strips of hardwood floors or wood panels can be loosened to enhance drying
We Carefully Follow Water Migration
Something many homeowners are unaware of is that water often migrates into other areas than the flood loss zone. For us to execute a flawless project, our skilled technicians take the time to follow the path of potential water migration. This helps us to ensure that no further damage takes place with your building materials and that we inhibit dangerous mold and mildew growth.

• Water never remains static once it enters into your home
• Water begins seeping, percolating, and flowing throughout building materials and cavities
Why Can't I Perform Flood Water Removal On My Own?
Whenever your Los Angeles home takes on floodwater, various elements like solid waste, mud, silt, and other debris is often present. Our trained water restoration technicians (WRT) have rakes and other hand tools that allow us to remove solids found in the water quickly. The powerful truck-mounted extractor tool is also helpful for removing water that is mixed with debris. Trash pumps can quickly pull out both water and solids rapidly, while submersible pumps help wrap up the rest of the water removal if the level is higher than two inches in depth.

To ensure safety, our skilled technicians always wear personal protective equipment (PPE) while removing and cleaning up floodwater. Treatment of the water with a disinfectant prior to removal is also common practice to further increase protection from various biological agents.

Remember that flood damage does not have to be stressful, which is why it is best to contact our team at SERVPRO of Silver Lake / Echo Park when you need help. We are available 24/7 for emergency service, and we send out a team in as little as four hours when you give us a call at (213) 628-2000.