Cracking the Remediation Code With SERVPRO
7/21/2019 (Permalink)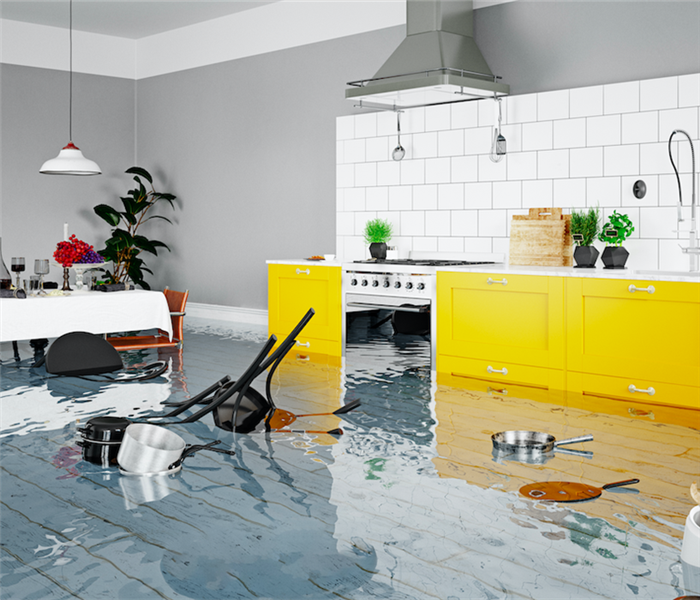 You want to make your restoration process after disaster as painless as possible. You can recover quickly and efficiency with SERVPRO.
A Look at the Restoration Services SERVPRO Provides Los Angeles
Thousands upon thousands of people live in Los Angeles and its surrounding developments and cities. With a high volume of residents, disasters from water, fire, mold, and severe weather events provide a constant threat to the communities we serve. We strive to combat this possibility with a growing roster of qualified personnel accredited in every facet of the restoration industry through the Institute of Inspection, Cleaning and Restoration Certification (IICRC) and our consistent investment in the leading equipment and products necessary to get jobs done quickly and professionally.
Water Damage
While homes are getting constructed throughout the area all the time, often the ones at the most considerable risk for water damage in Los Angeles are those that have stood for decades or more. Aging components and faulty designs can allow for water loss incidents from fixtures, plumbing, and many other areas. We offer a comprehensive approach to water loss restoration, helping our customers to worry less about acquiring a new contractor for every phase of recovery.
Part of our success in responding quickly and effectively to water damage that impacts homes through the Greater Los Angeles area is our high volume of recovery tools and equipment. Just in water restoration niches alone, our inventory exceeds 400 air movers and 300 dehumidification units. This considerable depth in equipment can help our team to handle recovery tasks of every size and severity without compromising on work happening in other areas of the city.
Water damage can spread quickly throughout Los Angeles homes and businesses, so our SERVPRO team arrives with the tools necessary for mitigation and rapid drying. The faster compromised areas of the home can get thoroughly dried, the less of these construction materials that must get removed. While we have in house contractors, we adhere to a "restore before replacement" mentality. This approach can save our customers time and money on water loss recovery efforts happening in their house.
Mold Damage
Though we have one of the most accomplished water recovery teams in the area, many still contend with mold damage in Los Angeles properties throughout the year when moist and damp conditions go unchecked. With how quickly these situations can become hazardous to those exposed, it is vital to address these damages immediately with competent professionals like our SERVPRO team. We have extensive training in mitigation and containment practices to prevent colonization from getting worse, and our accreditations as Applied Microbial Remediation Technicians (AMRT) through the IICRC helps us to approach even widespread situations confidently.
Often mold occurs in areas of your Los Angeles home that you cannot easily see. Homeowners must rely on their other senses to identify the presence of a hazardous colony, which can often get identified by a harsh musty odor and heightened environmental irritants. While we have sophisticated equipment that can help to identify the presence of mold damage on your property with certainty, these other indicators can often be enough. We work to quickly implement containment strategies as soon as colonization gets confirmed to prevent further spread of the colonies throughout your home.
We know how detrimental colonization can be to hosting materials, and to preserve these structural elements as much as possible, our SERVPRO team must implement effective mold removal strategies. From sanding and media blasting through the application of preventative paints and antimicrobial sprays, we can help your Los Angeles home after widespread mold damage effects.
Fire Damage
Fire damage to Los Angeles homes often comes with a heavy emotional toll for our customers as well. We know the importance of a fast response to both the pressing physical conditions impacting the property as well as helping our customers through this traumatic experience in whatever manner they need. We have a team of professionals with IICRC certifications in multiple fire recovery facets of the industry, as well as others with certifications in cleaning strategies for carpets, upholstery, fabrics, and textiles.
Not only is structure fire damage in Los Angeles a consistent threat, but residents must also remain aware of the possibility of natural disasters like wildfires. Even those out of the direct path of this spreading disaster contend with smoke and soot effects, so our SERVPRO team must have technicians ready to mobilize any time. Regardless of the cause of fire loss in your property, we have the experienced team to help you get back to preloss condition.
Much of our successes in the fire recovery niche of our restoration services correlates to our substantial investments in mitigation and cleaning equipment. These machines can help to reduce the time for our customers to help them get back into their Los Angeles properties quickly.
Storm Damage
Part of what makes our SERVPRO team so valuable for storm damage in Los Angeles is our ability to offer full-spectrum recovery. Properties often cannot afford to wait for hours – let alone days – to secure the right professionals in various industry niches needed for a full restoration and reconstruction of your house. We have a contacting team in-house that can help with emergency construction solutions like board-ups, tarping, controlled demolition, and tree removal.
This division of our company gets guided by our owner Bert Gabledon, who has more than 35 years of experience in the building trades and oversees the work that our contractors do for Los Angeles properties. Storm damage can have a dramatic and destructive effect on houses and businesses, and the faster a confident response occurs, the more of the installed components and construction materials that can get protected and preserved.
We also have effective solutions for when flood damage has already begun in Los Angeles properties. From our powerful extraction tools to our extensive inventory featuring hundreds of air movers and dehumidification units, we can work to limit the spread of flood effects quickly and make these situations "Like it never even happened."
You might have many options when it comes to restoration companies throughout our area, but our SERVPRO of Silver Lake / Echo Park team can help you through every phase of restoration and recovery quickly and efficiently. Give us a call whenever disaster strikes at (213) 628-2000.
Click here to see more about Los Angeles.