Commercial Water Damage in Los Angeles Can Be Fixed Quickly and Efficiently
6/15/2019 (Permalink)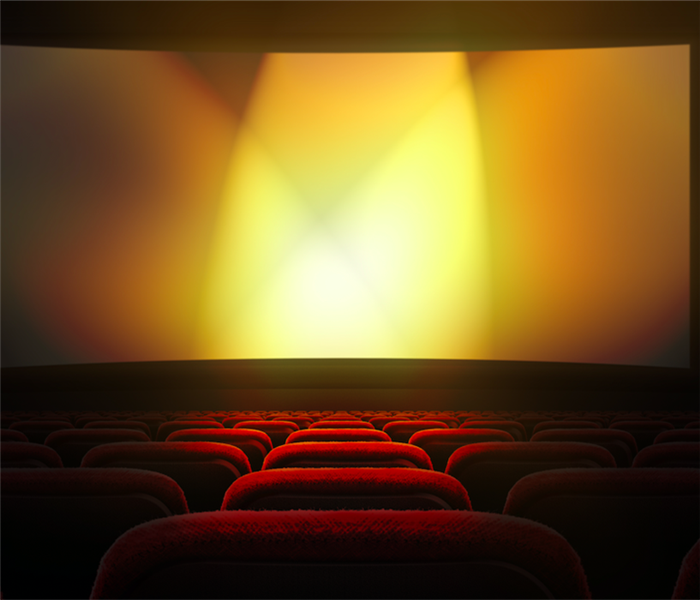 Water damage to your movie theater can be a handful to deal with alone. Contact the professionals at SERVPRO today for help.
Commercial Water Damage in a Los Angeles Theater Needs Teamwork and the Right Equipment
Matinees and full features attract a variety of individuals, groups, and others to your theater in Los Angeles. A small fire can cause sprinkler systems to release water into different areas, soaking both seating and carpeting. Patrons expect clean seating, and damp chairs might leave stains on expensive dresses or rented attire. Wet carpeting might become moldy and also stretches. Accidents, especially when the theater lights go off, and dark portions of a film keep things dim, can increase.
Entertainment venues in Los Angeles must provide safe conditions for their patrons, and commercial water damage makes ensuring this problematic. Signs indicating wet floors might suffice in better-lit areas, but instead of warning people to watch their step in darker places, they can add to the problem, instead.
Getting the upholstery dried out and clean again, so seats do not leave anyone with unwanted surprises takes more than a few fans placed inside the enclosed areas where you show movies. Wet carpeting needs significant increases in air flow to dry out. SERVPRO brings the equipment to your door to stop damage from worsening.
The number of microbes can become a severe problem when moisture gets introduced to the area. Drying thwarts the ability of microbes to multiply and spread but does not remove any of them from the air. Air scrubbers do this for us, instead. We place these so that the air currents our fans create also push the air toward the nearest air scrubber.
These enormously powerful fans can move between 3,000 and 5,000 cubic feet of air per minute (CFU). This moisture must go somewhere. Moreover, increasing amounts in the air can slow the evaporation rate. While raising the heat inside the theater can make the air capable of retaining additional amounts, we instead rely on desiccant machines that pull water vapor from the air and keep it trapped. We dispose of this water as needed to maintain a continuous drying process.
To do all of this as efficiently as possible, SERVPRO specialists learn from intensive in-house training to work in teams. This provides several pluses to any job, for both our customers and for ourselves. It reduces the costs to you, the risks to our mitigation team members, and also the time required to complete the job.
SERVPRO of Silver Lake / Echo Park also covers Angelino Park, Lincoln Heights, and Chinatown. Call us when your theater or other entertainment venue needs commercial water removal to stay open and keep your patrons happy. You can reach us at (213) 628-2000, with no exceptions, 24/7, year-round.
Click here to see more about Los Angeles.