Specialized Commercial Water Mitigation Services in Los Angeles
1/29/2023 (Permalink)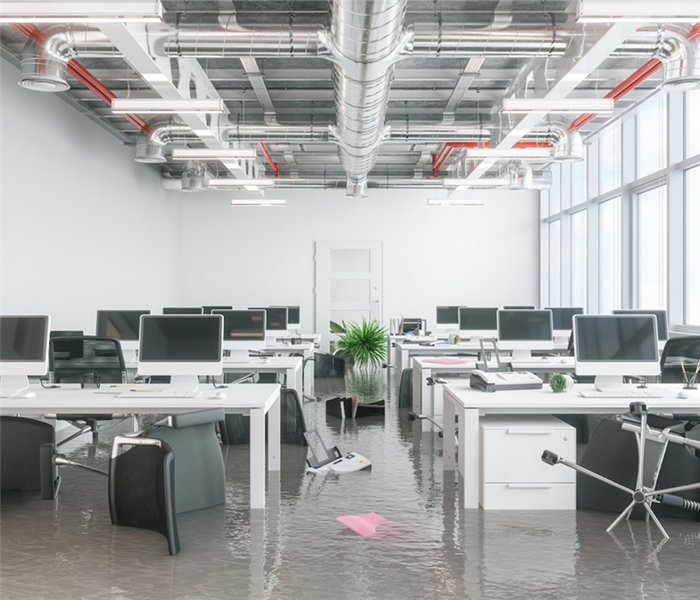 When water damage affects your business, time is of the essence. Contact SERVPRO for both experienced personnel and the equipment needed for the job.
SERVPRO Can Provide Water Mitigation Services in Los Angeles During Non-Business Hours
In Los Angeles commercial businesses, water leaks and spills seldom occur during regular working hours. But when they do, business operations are brought to a standstill. Clients and employees may need to leave the premises with the commercial business closing. Completing repairs, cleaning contents, drying, and restoring damaged structures must be completed before everyone can return.
Fast response by SERVPRO technicians utilizing water mitigation techniques in Los Angeles commercial buildings can limit the damage and reduce the time your business is offline.
We are available 24/7 and can be onsite within four hours of your call, including weeknights and weekends.
Every water event presents unique challenges for commercial businesses, employees, and customers. A hotel's entire floor may need to be closed until water cleanup and repairs are completed. Closing showrooms or office areas, while water recovery and drying are underway is often required. Employees in business offices may need to work from home while we remove carpets and renovate offices after a water event.
SERVPRO technicians utilize the appropriate equipment to extract excess water, air movers, and dehumidifiers to dry the commercial space before additional damage is caused. Mitigating water damage involves fast response and immediate action to protect the contents and structure from the effects of water on porous materials.
Water mitigation efforts and fast-applied action by SERVPRO can limit the total damage caused by a water leak. For example:
Water Damage Demolition of drywall and flooring structures
Reduction in the damage to paint and wallpaper
Damage to showroom contents, furniture, or office items
Call SERVPRO of Silver Lake / Echo Park for commercial water mitigation services. We provide service to Los Angeles and nearby areas. We can help 24/7. Call (213) 628-2000.