A Quick Way to Prevent Water Damage in Your Los Angeles Kitchen
5/29/2022 (Permalink)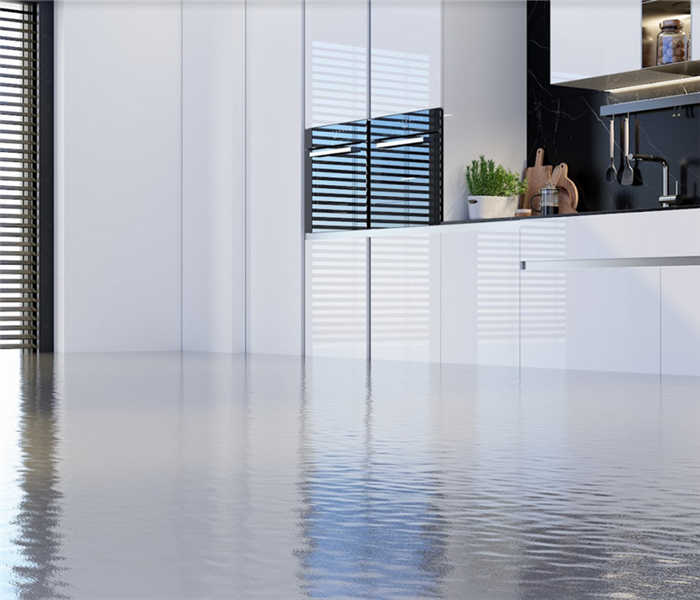 When your fridge or dishwasher leaks, the excess water can overwhelm your home. Contact SERVPRO immediately for water removal/remediation services.
Less Water Damage Happens with Level Appliances
Save money in Los Angeles by preventing water damage under kitchen appliances with a simple tool. Using a level helps ensure proper drainage. Re-establishing levelness can also help machines work more easily, need fewer repairs, and extend their life spans.
In Los Angeles, water damage can become a costly nightmare for homeowners and renters alike. When it is your own home involved, water-damaged flooring increases maintenance costs. Renters can lose their deposit when someone from property management discovers the costly (and preventable) damage.

Homes can continually settle, sometimes for years, leaving heavy appliances like dishwashers, refrigerators, and washing machines unbalanced. It only takes a few minutes to remedy this and return everything to how it should stand.
How to get the most out of your bubble or spirit level:
Choose one small enough for appliances,
Level refrigerators slightly higher in front than in the back, and
Check for level conditions going side-to-side, as well.
There are a few other ways to stop water damage related to appliances in your home. Check the seal around the door on refrigerators, freezers, and front-loading washing machines. Replace loose, sagging, or broken seals with a new seal. Use water with mild detergent to clean seals in good shape but with mildew signs.
Inspecting the refrigerator's drip pan lets you know if there are a couple of problems with the refrigerator. The pan should be slightly damp – overflowing or dry pans often indicate clogged drains inside the refrigerator. Be careful while cleaning out the trough and the drainage tube.
You can also inspect the feed lines to ice makers and water dispensers around connection sites and where pinching of tubing might occur. You should not feel any moisture on the outside of any feed lines.
SERVPRO of Silver Lake / Echo Park is ready to help. Call us at (213) 628-2000 for prompt and professional service.