SERVPRO Fire Damage in Los Angeles
2/28/2017 (Permalink)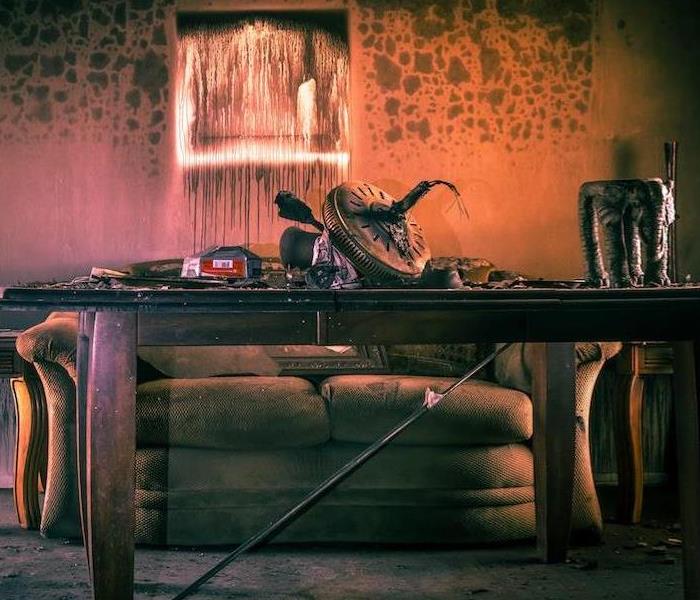 Don't let the odor after a fire linger in your home. Call SERVPRO today to come out and assess the damage.
The Three Phases of Odor Control After a Fire
The damaging effects of a fire can range from total structure loss to simple smoke and soot contamination. In fact, most of the destruction to home and property comes from the effects of smoke and soot; in particular, odors.

Fire damage, especially from odors, to a Los Angeles home, is not quickly restored. At SERVPRO, we understand that setting up a couple of fans and wiping down the walls is not going to cut it. Odors left from smoke damage require the right cleaners and equipment as well a professional knowledge of multiple techniques in deodorizing any house, condo, or apartment. We use these techniques in three phases.

Chemical Containment - The goal of this first phase is to stop odor molecules from evaporating into the air. Technicians accomplish this by spraying a chemical deodorizer directly on property and building materials using a pump-up sprayer. It forms a barrier which slows or stops evaporation.

Vapor Control - The goal of the second phase is to deodorize particles that escaped into the air before containment spraying began. Technicians release deodorant vapors into the air to counteract smoke odor particles. The granular pellets we use in this phase block most remaining odors before they can be detected by your nose.

Thermal Fogging - The goal in this final phase is to pursue odor particles into the smallest possible space they have gotten into and neutralize them. Technicians dispense solvent-based deodorant chemicals through a heating element and out into the air as a fog. This combustion process breaks down the chemicals into a size of about one-half of a micron. The deodorant is now the same size as an odor particle and as a fog, can go anywhere that an odor particle has settled, pair with it and neutralize it by changing its chemical composition.

Dry fogs penetrate quickly, deodorize rapidly, evaporate within a few hours, and the process does not leave moisture stains on surfaces unless it is used in a small, confined space. Removing odors after a fire is a complicated, multi-phase process. Not every procedure may be required depending on the extent of the contamination, but SERVPRO of Silver Lake / Echo Park has the experience and trained personnel to ensure every phase needed is accomplished. Call us at (323) 255-1000 today for an inspection and to get started.