We Have The State Of The Art Equipment To Restore Your Los Angeles Home
8/11/2019 (Permalink)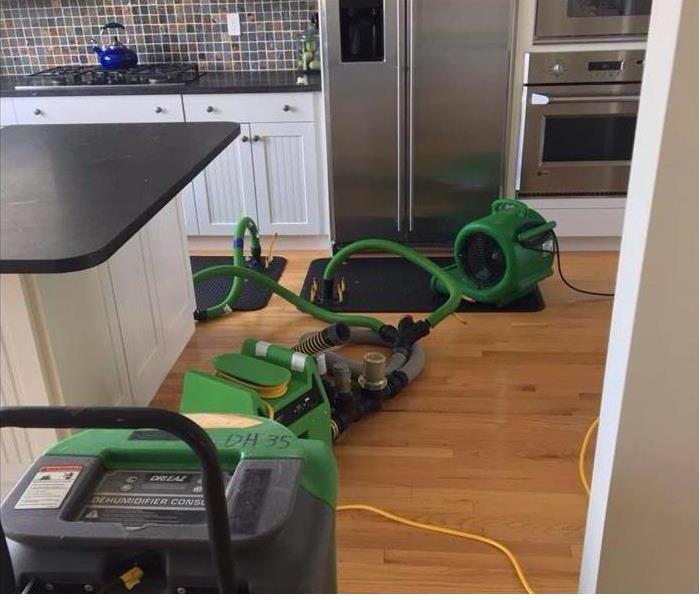 Water damage in this home was the result of a water line feed to the hot water heater springing a considerable leak.
The Challenges of Water Damage in Los Angeles Homes
Understanding the steps that you can take to immediately reduce the severity and ultimate cost of recovering water loss incidents in your Los Angeles home is critical. Every homeowner should have an idea of how their actions can affect the successes of restoration, whether you pursue DIY cleaning and drying for your property or seek the professional approach by reaching out to professionals like our SERVPRO team.
Without appropriate knowledge of how devastating water damage in Los Angeles homes can become, many property owners overlook these situations and only partially correct them. Regardless of the initial severity of these circumstances, water loss incidents can continue to spread and deteriorate construction materials and structural elements in the affected area.
One of the first challenges that homeowners ultimately face when contending with water loss effects in their home is the finite amount of time to recover these symptoms before irreparable damage occurs. Protecting these construction materials, for instance, requires top-tier extraction and drying equipment that can remove all saturation concerns and leave only an acceptable humidity baseline throughout the environment and the surfaces affected. This response to the emergency must happen immediately, as prolonged waiting can lead to a compromise in structural integrity and the composition of saturated elements.
Another challenge property owners contend with is a lack of knowledge of full recovery solutions, leading to missteps and inadequate drying and cleaning. Our SERVPRO team of technicians gets unique training and endorsements through the Institute of Inspection, Cleaning and Restoration Certification (IICRC) in both water restoration and structural drying, making us ideally qualified to help with water loss incidents of all sizes.
Water loss incidents present a substantial risk to area homes, and that is why many have continued to trust our qualified and growing SERVPRO of Silver Lake / Echo Park team to help. We have both the skills and the efficient equipment to make water emergencies that threaten your residence "Like it never even happened." You can give us a call anytime that you need us at (213) 628-2000.
See more about Los Angeles.