How SERVPRO Extracts Water From Your Boyle Heights Home
3/25/2019 (Permalink)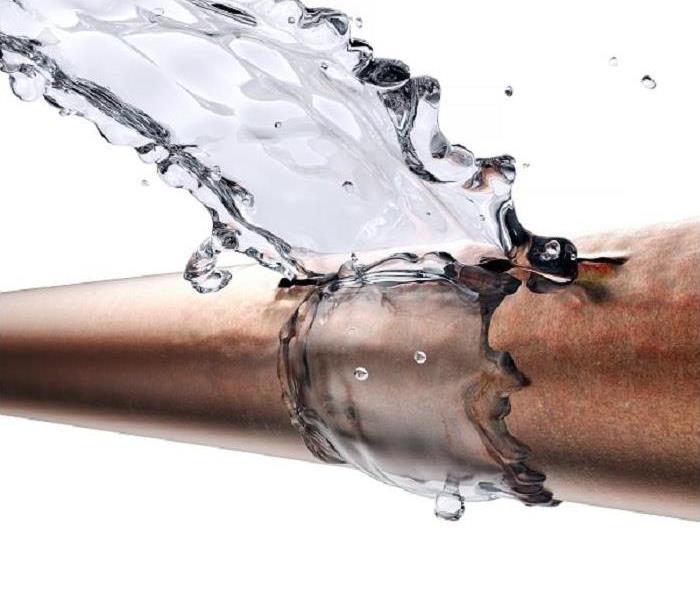 What do you do when a pipe bursts in your home? Call SERVPRO. We are ready to restore your water damaged home.
Effective Mitigation for Burst Pipes in Your Boyle Heights Home
When a pipe bursts in your Boyle Heights home, the resulting water loss incident can be catastrophic without an immediate response from competent and skilled professionals. While you might work to get the supply of the water shut down quickly, the spread of this high volume of water can be too much for you to resolve on your own. Our professionals have a 24/7 response to water loss emergencies, bringing the full measure of extraction and drying equipment to protect your property from unnecessary damages.
While there are many steps to recover damages from a burst pipe in your Boyle Heights home, water removal is where restoration must begin. Removing the standing water in areas of your house can help to reduce further absorption and saturation of construction materials and structural elements. Our SERVPRO professionals have a wide range of extraction equipment that we can begin using immediately when we first arrive at your damaged home. Our first step upon arrival is the assessment of the severity of this pooling water to determine which of these machines is necessary.
We have a wide range of extraction tools from truck-mounted pumps down to portable sump pumps and extraction wands. Our technicians work to remove the excess water as promptly as possible so that we can get drying started immediately. The faster that drying can begin in your water-damaged home, the better able we are to prevent widespread tear out and reconstruction.
Another phase of our effective mitigation is removing at-risk items from your property to keep them safe from the lingering moisture and damp conditions. Our contents department can offer focused drying, deodorization, and antimicrobial solutions to prevent mold growth. Once drying has proven successful in your home, these items can get returned to their original positions.
Effective mitigation can save you time and money on the necessary processes to return your water-damaged home to preloss condition. You can count on our SERVPRO of Silver Lake / Echo Park rapid response team to showcase the full measure of our mitigation equipment and strategies for any emergency that threatens your home by calling (213) 628-2000.
For more information on Boyle Heights, click here.