Some of the Worst Flood Damage Remediation Mistakes in Los Angeles and What They Will Cost You
12/16/2018 (Permalink)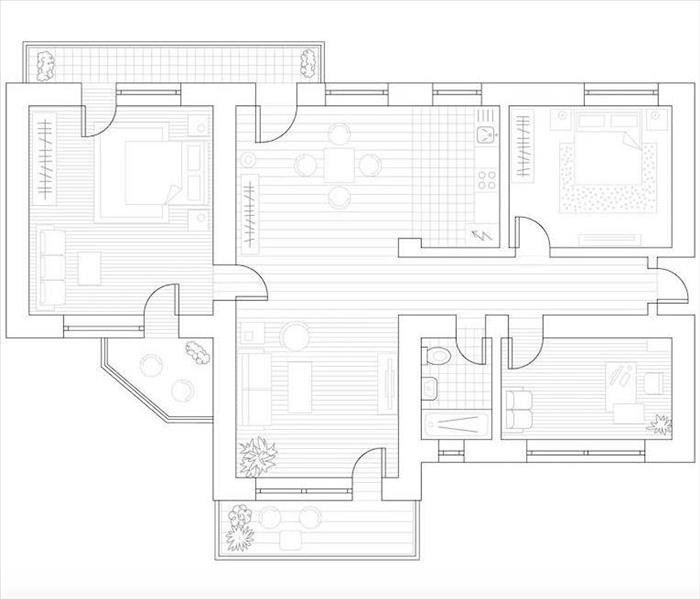 Having a blueprint or layout to your home can help with floodwater removal and restoration. Contact SERVPRO for remediation services.
Two Important Factors That Can Change How SERVPRO Approaches Flood Removal in Los Angeles
Flood removal from a Los Angeles home should be fast and thorough. The longer you allow water to remain in your home, the more damage it can cause later on. SERVPRO stands ready around the clock to send out teams of trained mitigation professionals to local homeowners in need. Once at your home, our crews immediately set to work evaluating the problem and removing as much water as they can within the first few hours of work. Many factors exist that go into our water extraction work, but a few constant factors can be relied on to determine our response to the problem.

Volume of Water
Regardless of how much water entered your home in Los Angeles, we need to remove the flood waters within a few hours of your call to prevent further damage. For smaller homes dealing with less water, a single crew with standard portable extraction equipment may be appropriate. However, as the job scales upwards, we are required to bring in more and more machinery and manpower to pump out all the water in time. In extreme cases, as with a large mansion or apartment complex, we may need to use multiple truck-mounted pumps to remove the water. Try to let us know over the phone how big the problem is so we can arrive with the appropriate equipment in tow.

Building Layout
Everything about your property can help or harm the restoration process in different ways. If your home has a basement or sizable low-lying area, this can collect water quickly and make water extraction more difficult. If the damage is centered in a room behind many hallways and doors, this can add another layer of complexity to our work. If possible, provide our technicians with blueprints, plans, and other documents related to your home so that they can not only extract water faster, but also locate critical features such as water mains, electrical breakers, and valves.

SERVPRO of Silver Lake / Echo Park is there to help with flood damage in your home. Call us at (323) 255-1000 to request or learn more about our services.

Click here for more about Los Angeles.