When a Broken Water Pipe Becomes the Main Event in Your Los Angeles Property
11/15/2018 (Permalink)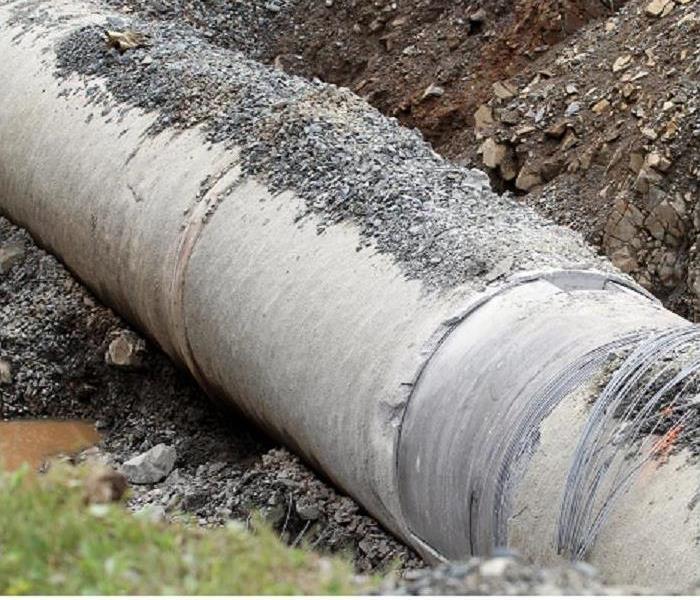 Do you know if the pipes bringing water into your house are in good working order? When the water main breaks, call SERVPRO!
Water Main Breaks Can Flood Multiple Los Angeles Properties
There are enough natural disasters that occur in and around Los Angeles to keep homeowners on the defensive to prevent unnecessary damages to their property. Even without the potential possibilities for wildfires or damaging wind storms, chance events like water main breaks on supply lines feeding neighborhoods can pose a threat all on their own. As the composition of the ground around the lines changes over time, strains begin to emerge and eventually rupture the main line, which can cause water to flow freely up and out of the ground with significant pressure.
Any homes that find themselves in the path of this emerging water is likely to experience some flood damages throughout their Los Angeles property. Even before the city officials can get there to shut down the valves and begin the necessary steps to repair this broken water main line, you can reach out to dedicated professionals that can arrive quickly to help you begin the mitigation process and protect your property from continued damages.
Something that sets our SERVPRO franchise apart from some of the competition that we have throughout the region is our ability to remain available to our customers 24-hours a day, even on weekends and holidays. We cannot tell you when disaster could affect your home, so we want to make sure that you have the full volume of our resources available to you at any time of the day. Within a short period, water damage can saturate into the materials it becomes exposed to, adversely affecting them and causing them to bloat, distort, and eventually fail.
With your home falling into a timeline of degradation and a potential hazard in hours to days following a significant water loss incident like this, our SERVPRO team can offer our industry-leading equipment and experienced technicians to overcome the damages promptly.
While you cannot account or prepare for water main breaks throughout your neighborhood that could adversely affect your property, you should now have an idea of whom to call if it does happen. Give our SERVPRO of Silver Lake / Echo Park a call anytime that you need us at (323) 255-1000.
Did you know that Beverly Hills was once lima bean ranch? Click here for more information.